Founder of Sei-Shin-Ryu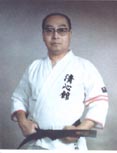 The Master Kazuo Kikuchi was born in Tokio and since a very young age, he felt a lot of curiosity about the "Martial Arts", entering in the discipline of Aikido with the Master Morihei Ueshiba, and getting, only in a year, the black belt. That happened in 1940, when he was 15 years old.
Nevertheless, Master Kikuchi considered this discipline like part of Goshin-Yutsu (personal defence), so he started to look for something more dynamic and stronger.
As not finding it in the near shires and as not being able to go further because of the lack of economic resources, he began to study "Hari and Siatsu" (acupuncture and digit puncture). After two years of learning, in 1942, he decided to travel around the towns that didn't have doctors, to exercise his knowledge. This, at the same time let him raise some money to practise other disciplines of the "Martial Arts" like Judo, Ken-Do, Zyu-Zitsu, Iai-Do, Shuri-Ken and Kobudo, as well as coursing studies in the University of "Nihon".
He participated in the Second World War (1944-1945) like a voluntary. During this part of his life, Master Kikuchi contacted with a Chinese soldier, who showed him knowledge about "Chinese Fight".
After the Second War was finished in 1946, he returned to Japan, where he practised Kendo and a bit later, "Karate Ryobu-kan" with Master Ryosuke Konishi, whose pseudonym was "Yasuhiro". Meanwhile, he finished his studies of law in the University of "Chuo", graduating in Politic Sciences in the year 1953.
During this period, Master Kikuchi was restless, his life consisted on studying during the day and practising Karate at night.
In those times there were so few people practising Karate, so he had the opportunity to learn other styles from the different Masters who shared the tatami with Master Konishi:
At the age of 32 and because of some clashes with Master Konishi about politic opinion, he had the opportunity to put into practise an idea he had been some time maturing, and for that, he had to take advantage of all the knowledge acquired and join them in one, according with his own thoughts, giving a rise to the style "Shei Shin Ryu Karate Kenpo" (14-VII-1953).
One of the "tops" that Master Kikuchi had was that for knowing the Karate really and to enter in it's essences, was necessary to practise other styles so that it's philosophy could be analysed, giving a lot of importance to the knowledge come from superior belts of other styles, as well as the practise of Kobudo.
He was, by the way, one of the firsts Master who chose the introduction of women in the world of Karate, a concept not very well assimilated by other Masters. He developed, in those days, a pioneer system of distance teaching, counting in the year 1950 with more than 60 delegations only in Japan.
Masters with who studied:
Master KONISHI RYOSUKE
KANCHO:SHINDO-SHIZEN-RYU
Master INAGOKI GOHEI
TATSHI: SHINDO-SHIZEN-RYU
Master KAMIYAMA TOMISAKU
RENSHI:BUTOKUDEN
MOTOBU-RYU
(Direct student of Mº MOTOBU)
Master SHIMADA Y EGAMI
SIHAN:SHOTO-KAN-RYU
Master TAKAHASHI
KANCHO:ITOSUKAI
Master WATANABE
SIHAN: GOYU-RYU
Master OTSUKA HIRONORI
FOUNDER OF WADO-RYU
(With this Master he maintained friendship ties)
Master MORIHEI UESHIBA
KANCHO:FOUNDER OF AIKIDO