Karate school
Karate School: Sei shin kan-Sei-Shin-Ryu Karate kenpo-Soke
Founder: Kazuo Kikuchi
Director of: "Karate kenpo-Soke Iai Batto Zyutsu"
Place: Tokio. Minatoku. JAPAN
Data: 14-07-1957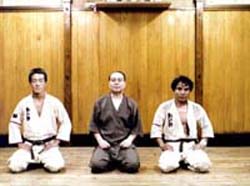 Karate school origin
The object and reason of Sei Shin Ryu is the free "personal evolution", it is peace without violence, and it is independent. It's concept of Karate is global, understanding it as a whole from the direct techniques of application to the Kobudo. It is a style that works on the 86 vital points of the human body.
Using these techniques in a fight was very dangerous, so the style Sei Shin Ryu had forbidden to compete against other styles.
Master Kikuchi based his philosophy of work without looking for the strong stops of other styles but in the work of taisabaki with strong attacks in vital points and joints.
It is characterized fundamentally by the speed and taisabaki. Positions are high.
In it's basic concept, is a school of Karate-kenpo that it has received this name because of it's direct line with the school Ryobu-kan in the style "Shindo Jinen Ryu". In Spain, Master Koitxi Yaezakura keeps the line learned from Master Kikuchi as faithfully as possible, inside the traditional Karate.
Thought is true that in the last few years it has been an evolution to let people who want to compete, this wasn't contemplated very much in the style Sei Shin Ryu, cause it left the Kenpo part in a second sight; but it is also true that in the usual work of Karate this concepts are developed. The work is evolutionary and while in initial levels one gives great importance to the work of accession and promotes so much in the techniques of assault (atemi) like of defence in posterior levels and especially top, does not look for the strength of the stops of other styles, but a work of taisabaki with fulminating assaults in vital points and joints.
This one is a work that remains faithfully gathered in the katas "TAISABAKI", peculiar of this school and that date back to the joint work between the Master Konishi, the Master Itosu and the Master Inagaki, experts in techniques of Ju-jitsu (self-defence) and Iai-do (managing of the Japanese Knowing):
Taisabaki Shio-dan "Heian Nidan"
Taisabaki Ni-dan "Heian Shiodan" (symmetrical movements to left side and right).
Taisabaki San-dan
Taisabaki Yo-dan
Taisabaki Go-dan.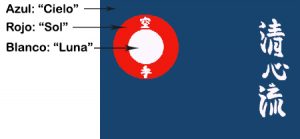 | | |
| --- | --- |
| Meaning | Meaning |
| Sei: Clean | Freedom |
| Shin: Heart | Peace |
| Ryu: Style | Independence |